Meet Our Adopted Manatee's!
It's only fair that if our trademark mascot is a manatee, we should do our part to help protect them.
Brutus
Brutus is one of the largest manatees who frequent Blue Spring State Park. When last weighed, he was nearly 1,900 pounds (and no, weighing a big animal like a manatee is not an easy task).

He is not a "morning manatee" and will often sleep late and miss morning roll call when Wayne Hartley, Save the Manatee Club's Manatee Specialist, goes out in the early morning hours to count and identify the manatees.

However, once Brutus wakes up for the day, he is very social. He has frequently been seen traveling in and out of the spring with other Save the Manatee adoptees like Philip, Paddy Doyle, Robin, Doc, and Nick. He enjoys play, and often takes part in bouts of splashing and cavorting with other manatees in the spring run. Brutus seems to have a very good time being where the action is and also seems to have an affinity for the female manatees at Blue Spring. 
Paddy-Doyle
Paddy Doyle was named at the request of a visiting researcher, who was Irish and thought it would be nice to have an "Irish" manatee at Blue Spring. It turns out that Paddy's "fighting Irishman" name is quite appropriate.

Each time Paddy had to be captured to be fitted for his equipment,
his feisty nature was evident. However, researchers managed to tag him despite his resistance.
Most manatees in the wild bear scars from multiple boat hits, and Paddy Doyle is easily identified because of very distinctive scars on his back and tail. The scars on his tail, caused by a boat propeller, are graphic reminders that manatees are no match for fast-moving boats.

Paddy Doyle often likes to play around the swim area at the park. This is not a problem during the winter months when humans are not allowed in the swimming area, but if he pops in during the summer, swimmers in the swim area may need to leave the water while he is visiting.
Paddy is social and playful, and he seems to enjoy the company of other manatees. He has been seen with fellow Save the Manatee Club (SMC) adoptees Howie, Floyd, Doc, Brutus, Philip, Phyllis, and Flash. He has been known to pay particular attention to Phyllis.
Margarito
Named in honor of SMC co-founder Jimmy Buffett's hit song "Margaritaville", Margarito is known for being a very curious, friendly, and social manatee. He can be identified by a number of scars from watercraft strikes and from his missing left flipper, which became badly entangled in monofilament fishing line. Rescuers were able to remove the line, and they took him to SeaWorld Orlando for treatment before releasing him.

Unfortunately, he lost the flipper, though he remains able to maneuver through the water using his remaining flipper and his powerful tail.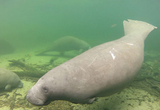 Phillip
Philip is an average-sized manatee, which means he is about 10 feet long (approximately three meters) and weighs between 800 – 1,200 pounds (362 – 544 kilograms). Philip is one of the most playful manatees who spend the cold winter enjoying the warm Blue Spring waters.

He is very active and curious. He likes to follow the canoe when researchers head out in the morning to count and identify the manatees in the spring run.